PERIPLOUS
The word has been traveling since antiquity. This same word refers to a trip: Exploring unknown coasts or covering sea routes around a coastal area. You are moving around the axis that defines the starting point, the origin, the memory. And you come back, richer in images, knowledge or experience.
Periplous in ancient times combined transition, mission execution and security. The trip confabulated with the coastal zone, the island or the continent, the traveler needed the scrawl, the respite, the resupply, the protection.
Today, we follow the traces of this ancient perception. We revive the journey as a quest, which has as a fixed point of reference the man who seeks experiences to build new images, new representations, new relationships and to offer himself the opportunity to become better, richer, mature. And ultimately more beautiful and more erotic.
Periplous is the love for the better, the deeper, the most authentic. The truest.
Periplous sails away. And you come along, on the boat and on the wave.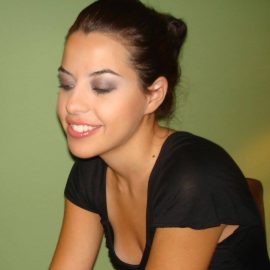 Evi Mamidi
Financial Manager
With studies in Fine Arts (Italy) and educating is the right person to give a aesthetically pleasant view to everything we do as also to contribute to our guiding methods ! Guaranteed to make you feel comfy since she is also a bistro owner !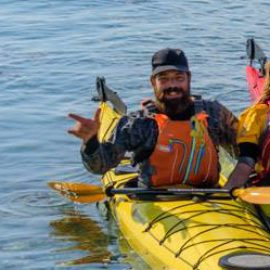 Yiannis Kopsinis
Tours Manager/ Expert Guide
The soul of our team with over 20 years of experience on kayaking and rafting on white waters, seas, guiding, rescuing you name it. A BCU 3 star coach that lives to share his passion about sea sports and more than eager to share his numerous stories from the past years either guiding or bartending!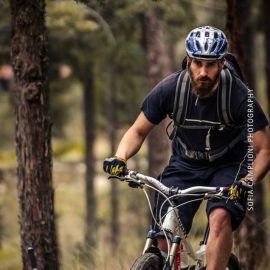 Antony Diamantopoulos
Sales Manager/ Guide
An avid mountain biker and hiker with a knowledge of e-commerce and social media. He is the one to talk on emails etc! Rarely you may find him guiding you on the sea!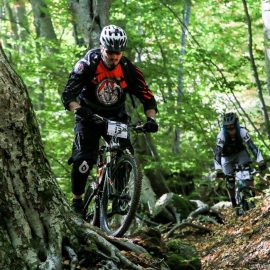 Konstantinos Vaiopoulos
Guide
Despite him being a former Greek National Champion on Karate at his puberty he is the kindest guy on the block! He is also a very active mountain bikers and trained sea kayak guide!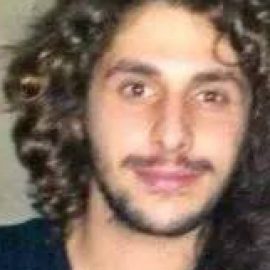 Marios in his 27 has served the Hellenic Special Forces and is a passionate swimmer, runner, kick-boxer and Brazilian jiu-jitsu enthusiast. He is a trained paddle sports guide and has always a smile on his face! He is also a great musician and DJ!